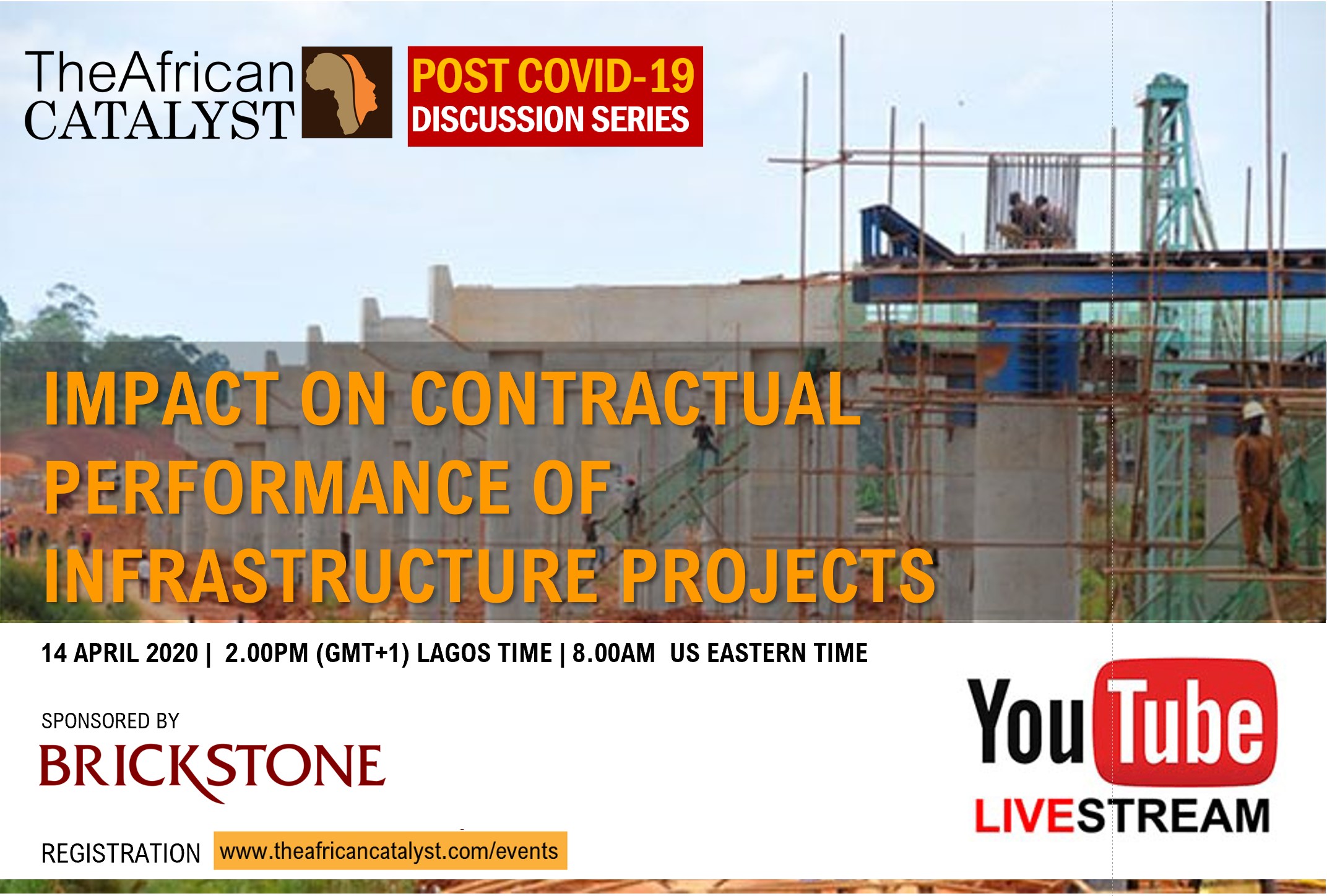 Brickstone Africa, sponsored Post Covid-19 Discussion Series organized by The African Catalyst with the objective of re-focusing our minds from all the inundating news in the media about the negative implications of COVID-19.
The panelists are Obafemi Oluwayemi, a Senior Partner at Axioms Solicitors, Victor Utedzi, a Director at African Transmission Corporation, Joachim Baumgaertner, Managing Director, Green Rhino Energy Ltd, Chukwudi Ononogbu MCIOB, Chartered Construction Manager. Femi Awofala, CEO Brickstone Africa was the moderator.
The Livestream was sponsored by Brickstone Africa
This discourse is intended to highlight the impact COVID-19 has on the contractual performance of infrastructural projects under project finance contracts, and proffer feasible remedies.
There is no doubt that COVID-19 has had, and will continue to have, an adverse impact on the global economy with disruption to supply chains, international travel, and business operations.  It is believed that many infrastructure stakeholders may be unable to fulfil their existing contractual obligations especially with infrastructure projects
In the context of a project finance contract for infrastructural projects, the interruption of construction or operations can have significant implications. The project company is typically a "thinly capitalized special purpose vehicle" and lenders have limited or no recourse to sponsors in circumstances where the project is underperforming. Given the supply chain disruption caused by the Covid-19 pandemic, it is likely that performances under many contracts will be delayed, interrupted, or even cancelled.
It was discussed that In April 2020, South Africa's largest power company, Eskom announced that it had sent force majeure notices to independent wind farms, that supply electricity to South Africa's national grid. The company defended their decision, explaining that as a result of the nationwide COVID-19 lockdown that was imposed in South Africa, demand for power had fallen by over 9000 megawatts (MW).
Eskom is an example of several infrastructural companies and projects, which are exercising their force majeure clauses. Obafemi Oluwayemi, a Senior Partner at Axioms Solicitors, explains that prior to COVID-19, the force majeure clause, usually stipulated within contracts, was a "copy and paste" feature for a number of lawyers. This is because the clause was hardly invoked, and hence less consideration was taken into force majeure when negotiating contracts. However, due to the pandemic, the tides have changed with parties to several infrastructural projects looking to invoke the mysterious" force majeure clause. "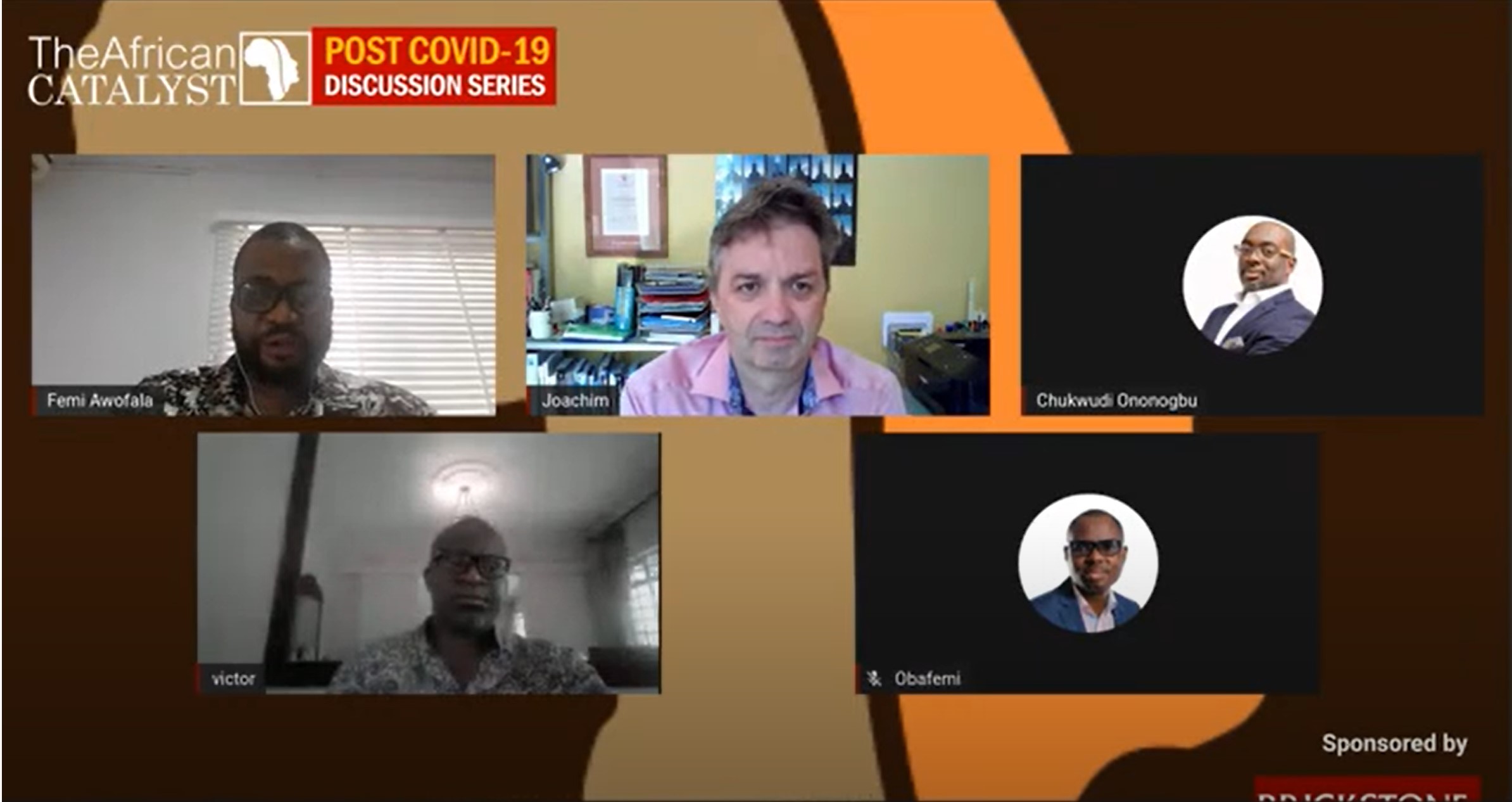 What is Force Majeure?
The notion of 'force majeure' originates from French law, which means "superior force". In the French law, force majeure is an event that is unforeseeable, unavoidable and external that makes execution impossible. In the livestream, Obafemi explains that the force majeure clause aims to excuse performance in the situation when an event has occurred, which prevents one of the parties to the contract from performing. This event is usually beyond the control of the party. Events are generally divided into two groups: natural events and political events. Examples of these events include, earthquakes, floods, fire, plague, terrorism, war, and Acts of God.
Obafemi explains that in practice, when invoking force majeure clauses, the specific event which the party would like to invoke should have been stated in the contract.
Evoking a Force Majeure clause
Globally, supply chains have been affected by the Corona Virus pandemic. Companies are unable to obtain procurements within stipulated timelines due to the shutdown of several companies around the world. Several countries have also executed partial and total lockdowns, thereby restricting the movement of labour for infrastructural projects. These events are spurring companies to invoke their Force Majeure clauses.
Victor Utedzi, a Director at African Transmission Corporation, gives examples of two power construction projects he is currently involved with. He discusses that the two Engineering Procurement and Construction (EPC) contractors, Chinese and Indian companies, have requested for a force majeure, because their technical expertise are unable to travel from their respective countries, thereby hampering the continuance of the projects.
Chukwudi Ononogbu, Chartered Construction Manager, argues that for contractors to evoke a force majeure clause, they must have attained a certain degree of complying with performance obligations prior to the COVID-19 pandemic. For example, an EPC contractor has been given a deadline to complete a project in 2021. Prior to the pandemic, the contractor had requested for several extensions of the completion date. Such delays would pose a dilemma to the other parties on whether to accept the force majeure request.
Who Pays for the Force Majeure?
Typically, infrastructural projects usually have a mixture of hybrid financing, debt and equity. In the financing pyramid, Victor stipulates that equity sponsors would be the first party to get affected during the pandemic because they would have to bear unplanned expenses, such as overheads that would be incurred even when a force majeure has been invoked.
For Lenders, Joachim Baumgaertner, Managing Director, Green Rhino Energy Ltd, says that it is possible for lenders to renegotiate payment obligations, in the event of single loans. However, in the situation where the loan has been refinanced into a bond, a renegotiation might seem harder. Hence, some sponsors might be posed with the challenge of continuing their payment obligations despite the pandemic situation.
Post COVID-19
Covid-19 has reenacted the impact of estimating demand forecasts and statistics for infrastructural projects. From the livestream event, the experts predict that post COVID-19, footfalls forecasts could be highly uncertain, as many citizens would remain hesitant to use public transportation systems, such as railways and airlines. Thus, infrastructural projects within the airline and transportation sector might takes longer to recover compared to the energy and mining sector.
Victor emphasises that infrastructural project sponsors have to be prepared to absorb losses, arising from COVID-19, to enable to such projects continue. The speakers also recommend that sponsors increase their risk capital by building their balance sheet base while undertaking infrastructural projects, to enable them mitigate shocks that might occur while the project is being undertaken.
Chijioke states that for infrastructural projects in their construction stage, sponsors are exploring the option of bringing more than one EPC contractor on board a project. He explains that post COVID-19 will call for more strategic and agile ways of doing things, sharing of risks, engaging seamlessly with stakeholders, and questioning numbers and statistics robustly.
Post COVID-19 provides a neutral ground where investors and contractors have to engage new strategies to undertake ongoing and new projects. Globally, countries are constantly longing for infrastructural developments and economic growth. While the global economy experiences a slowdown, infrastructural projects have to re-initiate their pace, to enable economies fast track their growth.
Contributed by
Akinkunmi Akingbade | LinkedIn Profile
Akinkunmi is a Chartered Accountant, who until recently, worked as a tax consultant in the Energy and Natural Resources Unit at KPMG. Now, he is a business development professional for Excellium Consulting, a business software consulting company in Lagos, Nigeria.
He is also a development columnist for Stears Business, where he discusses issues relating to Nigeria and its economy. Akinkunmi is passionate about growth, development and pursuing success for self and businesses he is affiliated with. He holds a Bachelor's Degree in Accounting from Covenant University.