Brickstone Africa, sponsored Post Covid-19 Discussion Series organized by The African Catalyst with the objective of bringing to light the various opportunities available post-covid-19 era currently not highlighted by the media.
The panelists are Ezinne Anyanwu, CEO Efferent Services Limited, Azuka, Regional Director for Africa resource center, David Baxter and Kola Oni, a finance expert in the healthcare sector.  Femi Awofala, CEO Brickstone Africa was the moderator
The Livestream was sponsored by Brickstone Africa
The sole purpose of this session is to highlight and discuss the immediate and long term impact on Covid-19 on Africa's healthcare system.
The region currently has a double demand base on its healthcare system, firstly the need to provide quality healthcare for daily health needs especially for children and pregnant women and then secondly the required response for pandemics such as the current Covid-19 and previous Ebola (which the learning points has not been sustained).
Africa leverages on donor funds, thereby making its Government relaxed in its investment in the health sector, this is evidence in Nigeria's current 8% allocation of its budget to Health. It was also highlighted that the continent currently has donations from various donors and intervention funds yet to be utililized as a result of poor or non-existence strategy. Hence the region needs to articulate clear strategy to yield maximum from collaborations.
One of the biggest challenge of Africa is that it does not have a healthcare ecosystem that goes beyond the hospital buildings and financing. Its current ecosystem does not include a clear payment system, a rich and robust talent pipelines, a reliable supply chain, a robust regulations and policies guiding the sector among others. Presently, the continent attracts medical experts through medical missions or specialist sent as expatriates, this class of talent net would be threatened post-covid19 as a result of the travel restrictions and fear of transmission during such trips. Hence, there would be increased adoption of telemedicine model which has seen increased growth and adoption since the beginning of the shutdown. There would also be a massive push to re-train medical talents for skill upscaling post-covid19.
As a result of the expected disruptions in logistics and stringent travel process, organizations would need to come up with smarter inventory management system also the world would want to diversify from the risk of solely depending on few countries for medical supplies as is currently obtainable with about 80% of rubber medical equipment currently manufactured by Malaysia. The increased cost in global supply chain as a result of perceived complexity will lead to innovations locally post-covid19.
The Healthcare sector has always been unresponsive to the adoption of technology; however, technology will play a vital role post-covid19 era as a lot of interactions that would involve travelling would no longer be possible because of the restrictions on travelling. In seeking for solutions, it is key for Africa to look for localized solution. In the coming days, more healthcare providers would be more receptive to technology and this will bring about standardization. There will also be a lot of data available post-covid19 and would lead to enforcement of policy and safety.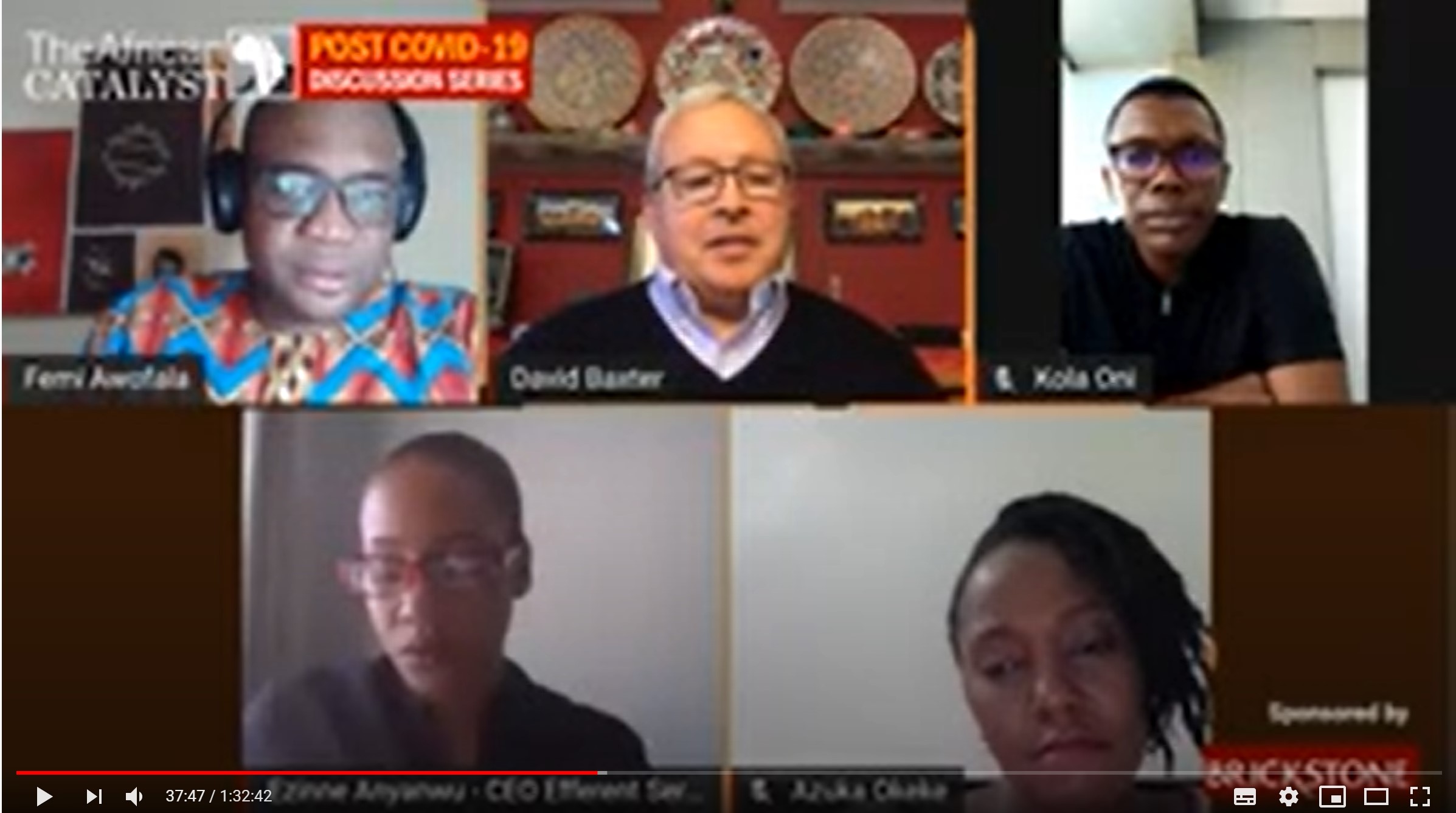 There is a disconnect between what is obtainable in the healthcare sector in the developed countries and what is obtainable in Africa. Africa currently depends on Philanthropy contributions which is not a sustainable form of Public Private Partnership (PPP) as the initiative ends when the sponsor stops contributing, Africa needs to look at how to protect its healthcare supply chain, services and training of personnel through PPP; it also needs to prepare its infrastructures such as water, hospital buildings etc through clear strategies covering the short term (identifying the gaps), the medium term (supply chain PPE, proactive PPE projects, legislative enabling environment) and the long term (work with organization to harmonize the effort PPP program with national programs, Regional collaboration to provide harmonized and coordinated healthcare system)  period.  Overall, Public and Private sector must collaborate as the public sector does not have the capacity to run healthcare systems efficiently.
HOW CAN AFRICA DEVELOP A WORKING HEALTHCARE PAYER SYSTEM?
In order for Africa to exploit and develop an efficient payer system, the panelist jointly recommended the following:
Un-utilized pension funds should be invested in the healthcare sector.
insurance scheme that is privately and technologically driven should be explored
develop and leverage on existing talent, strategies and policies for the healthcare system in the private sector
partner with private organization who can provide the missing link for health care payment and cost.
Educate the citizens on the need for healthcare insurance, this would change the current perception of the people.
There is need to create a PPP procurement system to facilitate transparent and competitive procurement systems.
RECOMMENDATION AND SOLUTIONS
Technology should be used to upscale people and talents through the use of tele-classes and tele-training, this would also reduce or eliminate cost of travelling.
Africa should standardize healthcare processes.
Access available credit facility with the various financial services
increase our local manufacturing of PPE
strategies should be put in place to extradite procurements, with every citizen becoming an advocate.
The Government should develop a policy that mandates employers with more that 3 employees to procure health insurance scheme for them as is obtainable with the pension scheme.
Africa should adopt resilient and sustainable practice.
The Government should create a global pool that would attract exported medical talents to return and work in the region at a guaranteed pay.
The Government should improve the supply chain
Contributed by
Thelma Ugonna Ohiri-Anyanwu, CFA | LinkedIn
Thelma is a Performance Analyst at FBN  with over 7 years of experience in the financial services sector cutting across product management, budgeting, performance management, transaction operations, financial modeling, and valuation
A graduate of Statistics, from the University of Nigeria, Nsukka, Enugu State, a holder of the certificate in business accounting, Chartered institute of Management accounting (CIMA) and a Certified Financial Analyst (CFA). She is an exceptional, innovative, energetic, self-motivated and solution-driven .