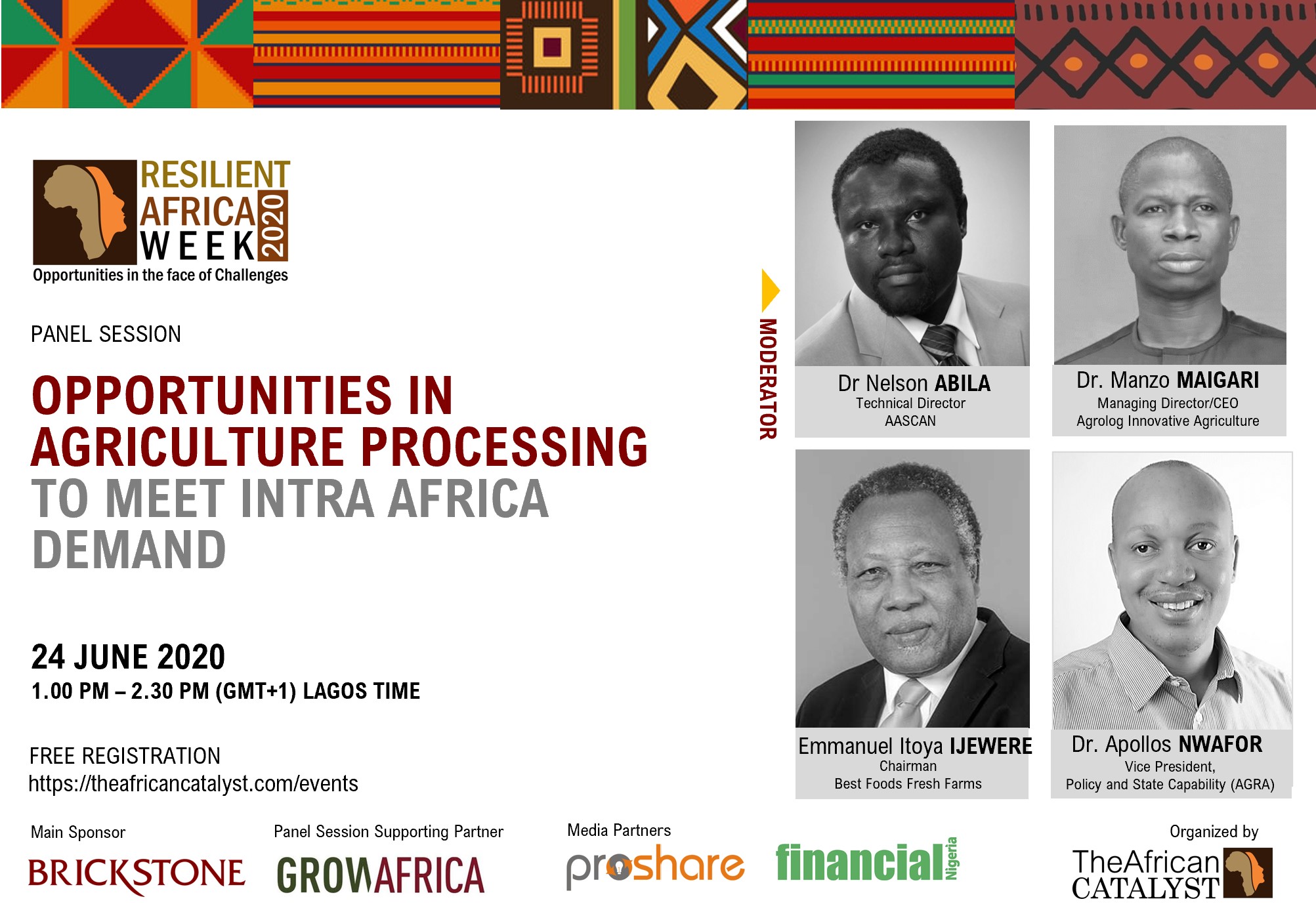 Brickstone Africa, sponsored Post Covid-19 Discussion Series organized by The African Catalyst with the objective of bringing to light the various opportunities available post-covid-19 era currently not highlighted by the media.
The panellists of this session were: Dr Apollos Nwafor, Vice President, Policy and State Capability AGRA, Dr Maizo Maigari, Managing Director/CEO Agrolog Innovative Agriculture, Dr Emmanuel Itoya Ijewere FCCA FCA FCIT, and Dr Nelson Abila | Technical Director African Agribusiness Supply Chain Network (AASCAN) who also moderated the session.
The Livestream was sponsored by Brickstone Africa
The sole purpose of this discourse was to spotlight the immediate and long term impact of Covid-19 on Africa's Agricultural Processing system.
In terms of agricultural development, Africa has moved from the production of raw materials to providing processed food items. A typical example is the West African Milk Industry.
However, Africa today still struggles greatly with issues surrounding agricultural processing. Interestingly, some of these challenges include but not limited to energy; power; logistics and supply of processing material; political and policy-related challenges, especially as it concerns cross border movement of processing materials.
More so, there has been the challenge of implementing a regional agreement on the movement of goods and services across borders.
Interestingly, a lot of African countries find it easier to import processed goods and Agro products externally (i.e. outside the continent) rather than from within Africa, and this has had a great negative impact on trade. It's a thing of concern as Intra-African trade is extremely low compared to other continents and countries.
More so, a lot of African countries are devoid of systems that encourage the adoption of technology for agricultural development. As a result, even with large economic prowess, it is quite unfortunate that Africa's agro-processing systems are not resilient.
It is important to note that processing begins at the farmer level; because the more we produce, the more it impacts. Since there is a lack of access to financing, African countries need to know the level of financial guarantee for SMEs and consider an enabling environment for the private sector.
Regrettably, some agricultural food systems in Africa are failing. One way to solve this issue is to create an all-year-round irrigation system as opposed to relying on seasonal production. In addition, the Covid19 crisis has greatly impacted on the supply chain. As a result, farmers depend on roads to move items.
The Government need to scale up technologies of post-loss management; input distribution and value chain management. More so, the government should not be the source of private development; but should support the private sector.
KEY TAKEAWAYS:
What Opportunities in Agricultural Processing can meet Intra African demand ?
There is a need to deal with issues around policies, technology (with support for research and development). From farm to market, a processor should sit in the middle.
In Nigeria today, we produce more than enough food to eat; but because of lack of planning, over 50% is lost. Therefore, planning should be the first point of action. Sadly, the Government is only focusing on the supply chain.
In all, we should focus internally on areas of competitiveness; In terms of post-event losses, African governments should adopt a value chain approach to every commodity. Africa needs to build strong and resilient institutions.

OTHER RECOMMENDATION AND SOLUTIONS
We should not lose sight of commodity exchange as it will help us raise the standards of Agribusiness
When the private sector works together, there will be collaboration and not a competition.
QUESTION AND ANSWER SESSION
The webinar saw several questions pertaining to the Agricultural Processing Sector. See some of the answers below:
Q: What impact will COVID 19 have on the African Continental Free Trade Agreement as many nations aim to secure employment for its citizens. Do you see these affecting current agreements?
A: We need to remember that the free trade agreement holds a lot of promises. We can serve our own market. A couple of countries are having trade disputes because of COVID 19. There are policy somersaults and a reversal of certain policies as a result of COVID 19
Q: Is it possible to practice small garden farms within our neighbourhood as we see in most places online? If yes, where can I get good seedlings here in Nigeria to startup?
A: Once you establish the seedlings you want to use, then you can start because you may even have the seedlings in your environment. Once you have space, you can plant anything you want
Q: What is the place of hydroponics farming in a food-resilient Africa?
A: You can use technology to improve yourself. Hydroponics is a high technology and its expensive. Power is very essential to this.