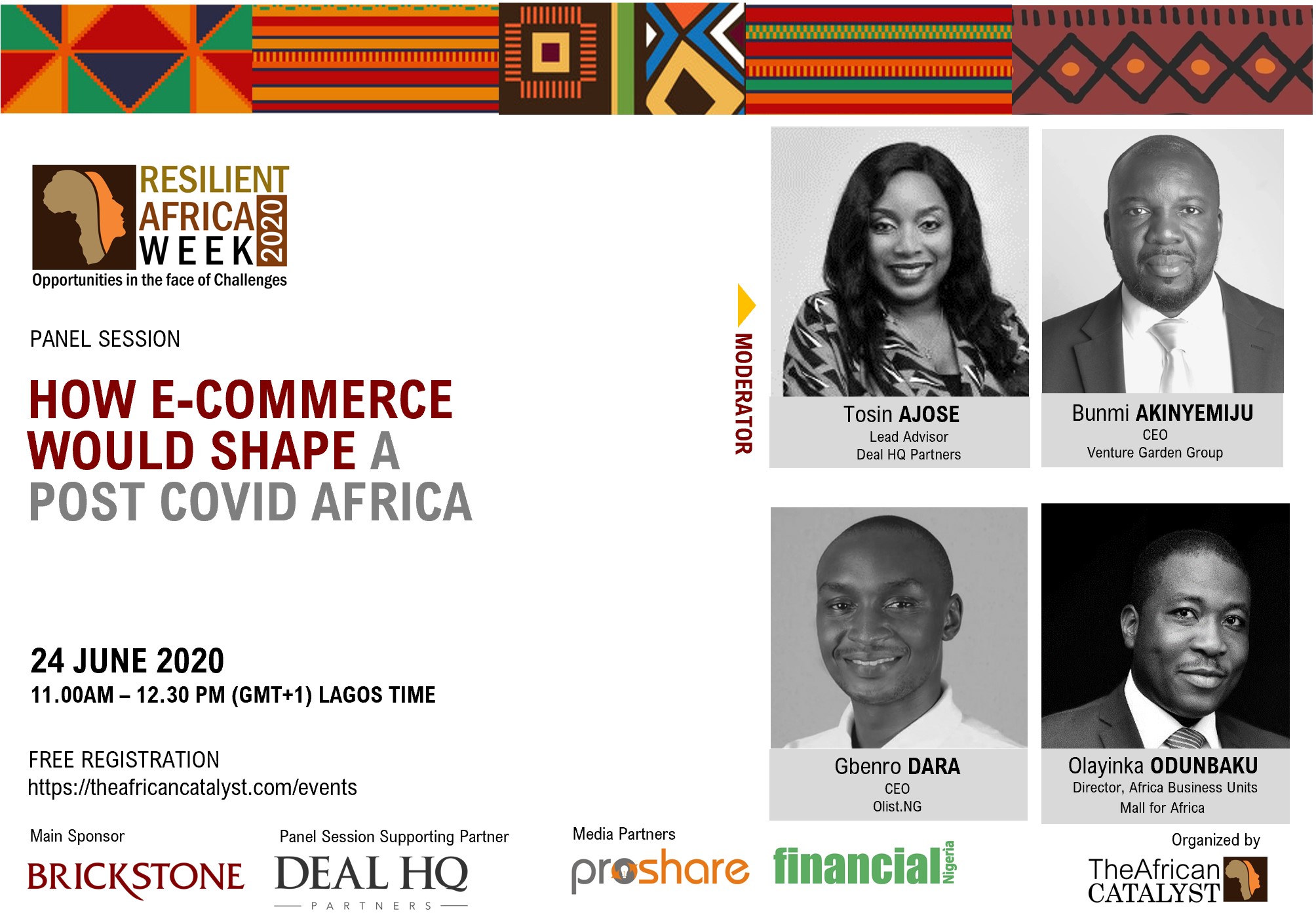 Ecommerce: Brickstone Africa sponsored Post Covid-19 Discussion Series; organized by the African Catalyst with the objective of bringing to light the various opportunities available post-covid-19 era currently not highlighted by the media.
The panellists were Bunmi Akinyemiju | CEO, Venture Garden Group; Gbenro Dara | Managing Director OList.ng; Olayinka Odunbaku | Director of African Countries Business Units, Mall4Africa, Tosin Ajose | Lead Advisor Deal HQ Partners was the moderator.
The Livestream was sponsored by Brickstone Africa
The sole purpose of this session was to highlight and discuss what opportunities abound for Ecommerce in Africa Post COVID
Africa has recorded significant growth in the e-commerce market since the outbreak of the Covid19 pandemic; because of this, many consumers who were not familiar with e-commerce have now found it incredibly useful. As a result, there has been an increase in e-commerce activities in recent time.
Owing to this upsurge; the government should focus on infrastructures such as delivery and payment systems. This will help the Ecommerce industry soar more even in the coming years.
However, it is possible that the government is yet to see the potential for revenue in the E-commerce space. Therefore, the government needs to come to terms with these potentials and leverage on them.
The more we have locally produced goods in Africa the more E-commerce businesses thrive in the continent. Local merchants need to build up and have standardised products that can be sold abroad; More so, they need to ensure that customers get the best experience regardless of where they are shopping from.

Ecommerce platforms need to ensure that they are positioned to be competitive. Some challenges that the Ecommerce ecosystem is faced with are bad roads; connectivity; inefficient postal systems; and shortage of warehousing, etc.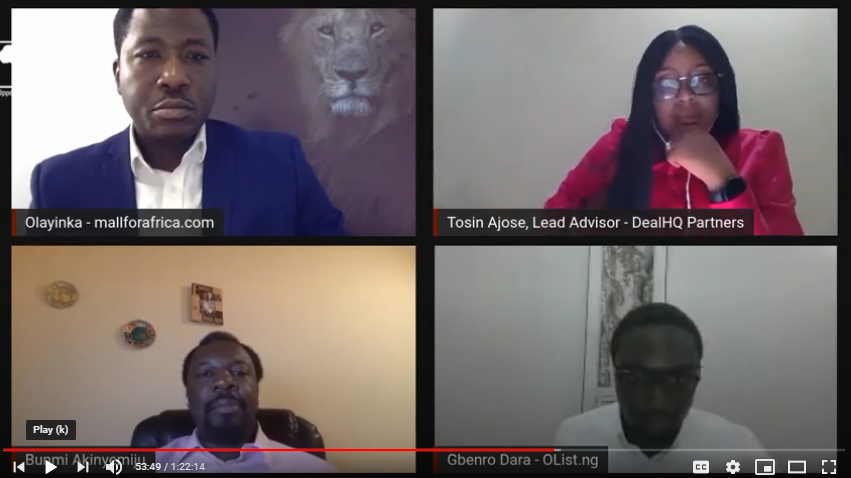 For ecommerce, traders to be more in control, but at the same time retain customers; their platforms need to be such that trust is built through digital payment infrastructure, and extensive user experience.
While small and medium scale enterprises (SMEs) focus on listing their products; ecommerce platforms can take charge of the marketing and logistics for these SMEs in order for their products to be globally accessible.
A post-COVID entrepreneur needs to know his or her strengths and make the most of it; but they also need to have at the back of their minds that building trust is about the disability of the service.
Watch Livestream Replay
How Would Ecommerce Shape Africa Post Covid19?
KEY TAKEAWAYS:
The panellists jointly recommended the following:
1. The need for Africa to utilise and develop efficient e-commerce.
2. The need for sufficient capital flows into the e-commerce sector to build the required infrastructure.
3. More entrepreneurs for the e-commerce market to birth more solutions across the value chain.
4.The need for the government to create initiatives that encourage "ease of business". For instance, quick issuance of a logistic license as e-commerce is here to stay.

OTHER RECOMMENDATIONS AND SOLUTIONS
E-commerce needs government intervention that supports infrastructure; logistics; and payment systems.
Sustainability of e-commerce will be dependent on user experience; government support; and trust.
Africa needs to innovate to capture value as a continent; without the fear of the existence of global e-commerce players.
Ensure access to the global village, and see to it that customers get their products regardless of where they are shopping from.
The players in the e-commerce communities in Africa need to ensure that they are positioned to be competitive.
African e-commerce companies should include a discussion chatbox; so the customer can chat with the supplier directly. By so doing, boost trust before buying a product. A typical example is "Aliexpress".
Ecommerce players should ensure the user experience seamless.

QUESTION AND ANSWER SESSION

The webinar saw several questions. See some of the answers below:
Q: Is Mall for Africa going to compete with Amazon and Alibaba in Africa or cooperate with them?
A: Mall for Africa has only created a business for Africa by Africans; so it cooperates rather than compete. As a result, Mall for Africa will be collaborating more with Amazon to ensure efficient service delivery.
Q: ​Could there be any relationship between e-commerce and healthcare? If yes, how can that be scaled up?
A: Every sector of the economy can be scaled better with e-commerce; and needs to know how technology tools help their health business; and help them create a competitive advantage