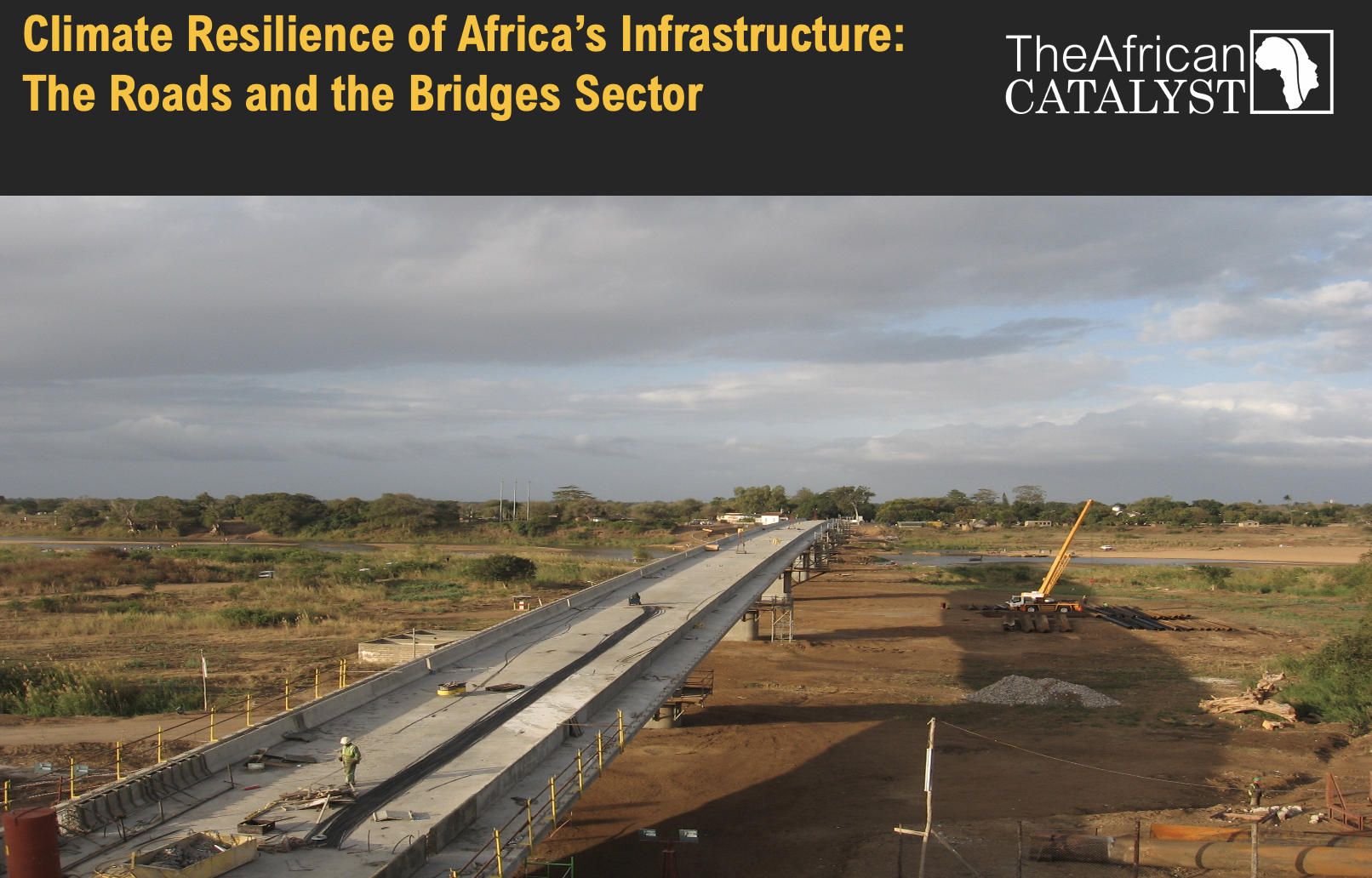 Africa's development is highly dependent on an adequate, reliable road system. But climate change is expected to take a heavy toll on the region's transport infrastructure, especially roads and bridges. 
To address this challenge, a new World Bank study helps planners determine the most cost-effective and appropriate adaptation pathway under a variety of climate scenarios.
This article by the African Catalyst reviews the World Bank's study on enhancing the climate resilience of Africa's infrastructure, particularly in the road and bridges sector; highlighting key facts and insights. 
Climate Resilience of Africa's Infrastructure: The Continent's Future Road Dependency 
According to the study, roads are a key asset for Africa. They connect villages to economic centers, people to hospitals, children to schools and goods to markets facilitating trade. 
The study examined the implications of climate change for Africa's road connectivity, and practical steps that can be taken now to minimize the associated risks. The scope of the study included 2.8 million km of roads throughout Sub-Saharan Africa, with a special focus on new road construction outlined in the Programme for Infrastructure Development in Africa (PIDA), an African Union facilitated initiative to enhance trans-boundary connectivity through the continent. 
The main conclusions of the report are:
Adequate road maintenance is the most critical and most efficient way of reducing the impact of a changing climate on the road system. In the absence of an adequate maintenance regime, the damage caused by climatic events is exacerbated. The uncertainty related to climate change further reinforces this dynamic.
Thus, maintenance of pavements and sealing activities; regular maintenance of bridges, culverts and drainage structures to ensure they are functional and not obstructed; maintenance and improvement of slope protection works; and systematic assessments to identify and incrementally address vulnerable and critical road sections are the first defense to climate risks.
The African Catalyst in partnership with Brickstone is co-hosting the Enabling Infrastructure Forum scheduled to hold in June 2023 in Lagos, Nigeria. The forum will discuss closely with the Government for policy evolution and on-the-ground implementation which attempts to influence key stakeholders in the areas of – Early Stage Development and Financing of Low Carbon Infrastructure.
The forum will assemble key leaders in Africa's infrastructure delivery to discuss infrastructure challenges and opportunities; and how innovations in project delivery and readiness, deal structuring, and sustainability solutions can help to solve critical issues for Low Carbon Infrastructure
Click the link to get more information and save the date.
The study found that even assuming adequate maintenance regimes (thereby standardizing the analysis across countries), climate change will cause substantial disruptions in network connectivity and increases in repairs and rehabilitation costs.
In fact, most African countries are well below maintenance standards, which will make climate change impacts even more severe. This suggests that adequate, climate-resilient maintenance should be a key priority as countries operationalize their Nationally Determined Contributions (NDCs), and should be supported by climate finance when available.
Simply ignoring climate change is not an option. The report showed that climate change is likely to lead to a shortening of roads rehabilitation life-cycle, which, in addition to maintenance, usually entails resurfacing every 20 years.
The shortened life-cycle is likely to lead to steep increases in maintenance and periodic rehabilitation costs. In the worst climate scenarios, stress imposed on the roads by precipitation can lead to rehabilitation costs 10 times higher (compared to historical climate conditions); stress imposed by flooding can lead to a 17 times increase.
In addition, climate change can lead to large increases in the disruption time of the network: in the worst climate scenarios, up to 2.5 times historic disruption due to extreme temperatures; for the temperature stressor; 76% higher due to precipitation; and 14 times higher due to flooding.
Proactive adaptation in response to temperature increase is a no regret option. According to the study, modifying the design in response to an anticipated higher temperature is a low or no-regret option for paved roads in virtually all countries and the vast majority of climate scenarios, including both the PIDA transboundary corridors and the planned expansion/upgrade of the national networks.
The reason is that the savings accrued over the road life cycle more than offset the higher construction costs, even if the measures are adopted now, before significant temperature increases are experienced. 
In other words, the report showed that it is already appropriate to design road infrastructure for the higher temperatures that climate change will bring. Not doing so may cause the need to repair damages related to higher temperature.
The case for proactive adaptation in response to precipitation is not as clear cut, and needs to be assessed case by case. Because of the fundamental uncertainty regarding future climate, it is not possible to be as definite on how to proactively design for precipitation. Rainfall varies all over the continent, but in several countries (e.g. Angola, Nigeria, Botswana, Togo, South Sudan, Mozambique, Benin, and Cameroon), it is clear that even moderate changes in the climate will induce significant precipitation-related disruption. In these countries, it would be appropriate to start proactively adapting the road system.
In other countries, more detailed analysis is needed to identify where, when and how to invest in resilience most appropriately. Some roads in some areas may well already benefit also from pro-active adaptation.
Better information on the benefits of avoiding climate-related disruption can inform decisions on proactive adaptation. The study developed a methodology to evaluate the merits of proactive adaptation in the context of an uncertain future climate.
The methodology can be applied in a straightforward manner to decisions about specific investments, once more granular information is available on: the lifetime cost of road assets; the value of the freight and passenger traffic expected to use those assets, the criticality of the road segment on the one hand and the level of network redundancy on the other hand, and how climate stressors (precipitation, flooding, extreme temperatures) are likely to affect both the road asset and its use.
The study evaluated the economics of engineering solutions to build resilience (such as increasing the drainage capacity of a road; better crowning a road to enable water to the sides; hardening river banks to avoid flooding; using road binders better adapted to extreme temperatures). This focus is justified by the need to avoid locking road projects in climate-vulnerable engineering solutions that could be very costly to reverse later.
Other adaptation options that African countries could assess, in terms of their cost-effectiveness of reducing climate risk, include: sector and spatial planning,  non-engineering solutions, and enabling the environment.
Read the complete study here.