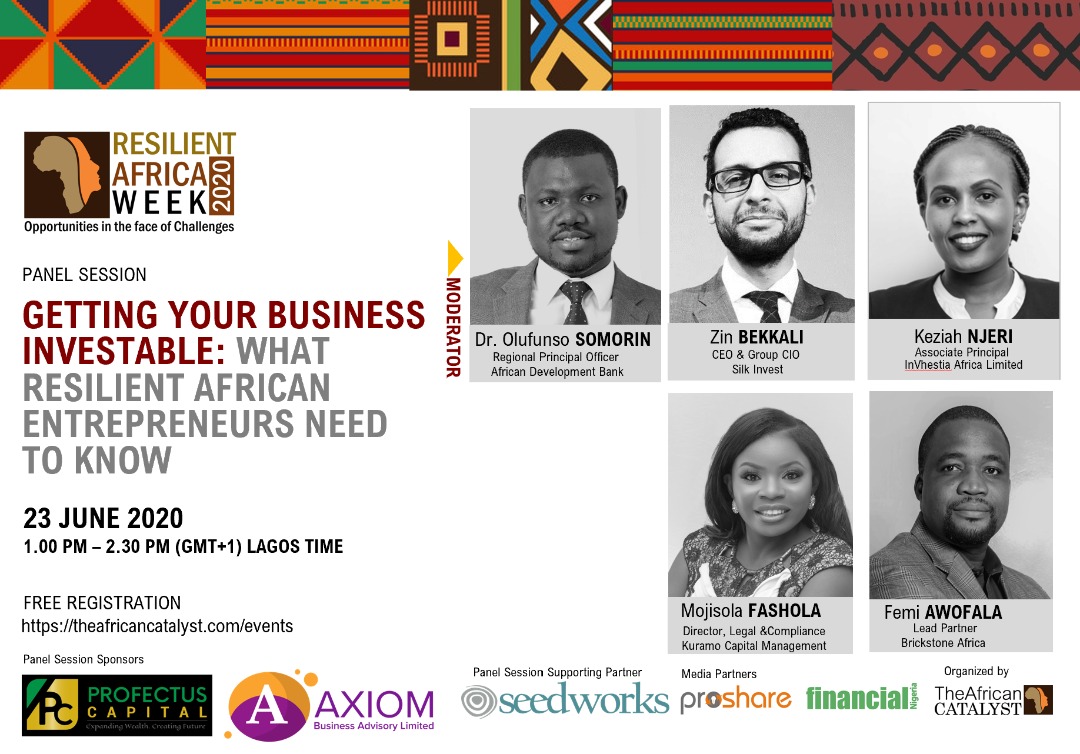 GETTING YOUR BUSINESS INVESTABLE: Brickstone Africa sponsored Post Covid-19 Discussion Series organized by The African Catalyst. With the objective of bringing to light the various opportunities available post-covid-19 era currently not highlighted by the media.
The panellists were Zin Bekkali; CEO Slik Invest. Mojisola Fashola; Director, Legal & Compliance Kuramo Capital Management. Keziah Njeri; Associate Principal, InVhestia Africa Limited. Femi Awofala; Lead Partner, Brickstone Africa. Dr Olufunso Somorin; Regional Principal Officer, African Development Bank and moderator of the session.
The Livestream was sponsored by Brickstone Africa
The sole purpose of this session is to enlighten the African entrepreneur on getting their business investable.
When a business is investable, it simply means that business has the ability to attract financing. However several investors have different guidelines for determining what an investable business is. Most private investors will look at two things, commerce, and sustainability.
Commerce, meaning the ability of a business to generate returns that will exceed the expected IRR (rate of growth) of an investor. For this to happen, several factors will be considered. These factors include industry, ongoing capital expenditure, sustainability, leverage ratio (debt exposure), working capital requirement, government, and regulatory policies etc.
Most businesses trying to get investable meet a lot of these requirements but seem to lag when it comes to operational control, corporate governance structure, and business processes. Investors look out for a team proposition that has a proven track record not just based on the ability to run a business. But also the business owner's readiness to manage stakeholders across the value chain. As well as how he/she proffer solutions in a challenging business environment.
Moreover, it might seem like the funds for Africa is limited. For this reason, investors in Africa tend to be a bit picky due to capital insufficiency that supports growth. Profitability and financial stability cannot be overemphasized especially in an environment which is so dynamic and unfortunately volatile.
Concerning exit route, an investor would want to be sure that when it is time to exit, they have an opportunity to leave either through an Initial Public Offering (IPO) or for other investors coming on board.
More so, a lot of African businesses struggle with record keeping. It is advised that proper record is kept in order for interested investors to have access to all information required for scrutiny.
Strategy and projections are also essential. This is because when investors come on board, they want to know the current state of the business; where the business is going, and if the business owner has the capability to move the business forward.
Planning a Financial Model
In planning a financial model, it is important to ensure that all the assumptions can be backed by the previous performance of the business. There is also a need for an alignment between the investor and the entrepreneur.  
Investing in any business can also be seen in the context of location. An investable business cannot take itself away from the environment in which it finds itself. Some businesses might be considered investable in one part of Africa, but fail in another part. This could be due to tariffs, government policies, facilities etc. For instance, the technology wave in Nigeria today has existed in East Africa over the past ten years.  However, Nigerians are only just getting the hold of it since the environment is becoming more accommodating
Because of the many requirements and processes involved, some may argue that there are too little investment opportunities in Africa. However, the means to create investment opportunities actually do exist. There are three things to focus on: the people, the opportunities, and the environment.
The People:   Africa has entrepreneurs who have the desire to make a living and make an impact. Even though they may not have the level of due diligence a European company may require. More so, African entrepreneurs are also there to take on business opportunities and make it happen.
This opportunity itself is more than the people available to take it on. For instance, in Agro-Processing food and beverage industry in West Africa. We do not have as much Agro-processing as we have primary cultivation. In essence, Africa has more people on the farm, who then send the farm produce to the firms to export.
The Environment: Although Africa might be going through a recession, the probing question should be, who is more prepared to come out of the recession and take on opportunities.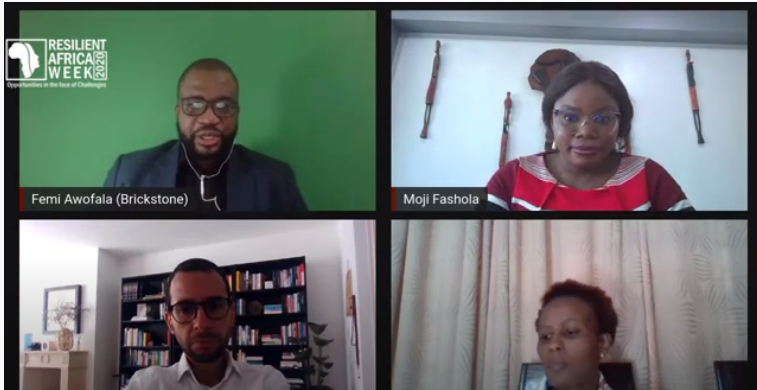 During crisis situations, it is necessary that a business plan adapts to some change. It may be a tactic change or a strategic change. Entrepreneurs should always be open to change in order to survive.
Also, It is also possible that investors could demand new or renegotiation of entry price and an adjustment of valuation. This might cause a delay in closing a deal. Government regulations might also take a different shape after COVID.
A profitable business is most likely to be financially stable. When a company is profitable, in the long run, it will be able to make new investments; acquire new businesses; invest in aggressive marketing; and whatever needs to be done in order to increase their profits even more.
HOW CAN AFRICAN BUSINESSES BECOME INVESTABLE?
For African businesses to become more investable, the panellist jointly recommended the following:
African businesses need to be flexible. Asides the COVID19 crisis; there are other challenges in the market. Entrepreneurs must be ready to tackle them as they come.
African entrepreneurs need to understand that there is a difference between having the technical know-how to produce goods and managing a business. Most founders fail because they are not managers.
An entrepreneur should know that investors have a requirement to make money on their investment. It is not a free capital.
Entrepreneurs must learn to prioritize good record keeping, and master other ethics of running a business.
Business owners need to have a good knowledge of the industry they are operating; only then will they be better suited to respond to impending challenges.

RECOMMENDATION AND SOLUTIONS
There has to be a strategic alignment between the public & private sector; starting from regulatory and legal frameworks to enable business survival.
Investors should not just be focused solely on getting returns; but also help to catalyze the ecosystem.
It is crucial that entrepreneurs review their business plans and market. If after a period of eighteen months there are no prospects; they can consider shutting down and rebooting.
It's important to possess the ability to anticipate opportunities.

QUESTION AND ANSWER SESSION
The webinar saw several questions pertaining to how African firms can become investable. See some of the answers below: 

Q: How do we target in-country investors, and manage the issue of foreign exchange risk?
A: Companies can manage their supply chains, financial capital sources etc. Investors often make the mistake of not fully considering the local entrepreneurs in Africa. Investors can do better by designing better structures in terms of how the investment is done. Entrepreneurs need to understand that investors are not looking at investing in Africa because of currency volatility. They need to deliver better returns in dollar terms to investors.

In a situation where an entrepreneur expects that a further weakening or devaluation of the local currency is very eminent, he/she can borrow. They can take advantage of the low-interest rate; borrow in a local currency, and at a future date bring in their FX. Entrepreneurs should have high margins to show a trend of cost savings.

Q: How do investors get a good ROI with the constant fluctuation in currency ratio in some African Countries?
A: It is advisable for investors to bill in dollars if they are receiving investment in dollars. This will reduce currency fluctuation. In a case where that is not possible, the investor would have to include a currency depreciation element in their report. They can also target higher returns instead of the normal returns when the currency is stable. More so, when deciding on a business to invest in, the investor should ensure to expand their portfolio mix as well.

Q: How do we create a huge community of local investors in Africa?
A: SME lending is very important for this to work. The banks are the enablers for local currency financing. The Private Equity and Offshore Firms might not be able to take up this responsibility because of the debt component and that cannot be solved with foreign direct lending.