The Road Universal Health Coverage in Africa: Sharing the driver's seat with the Private Sector
Resilient Africa Week
June 25 @ 11:00 am

-

12:30 pm

UTC+1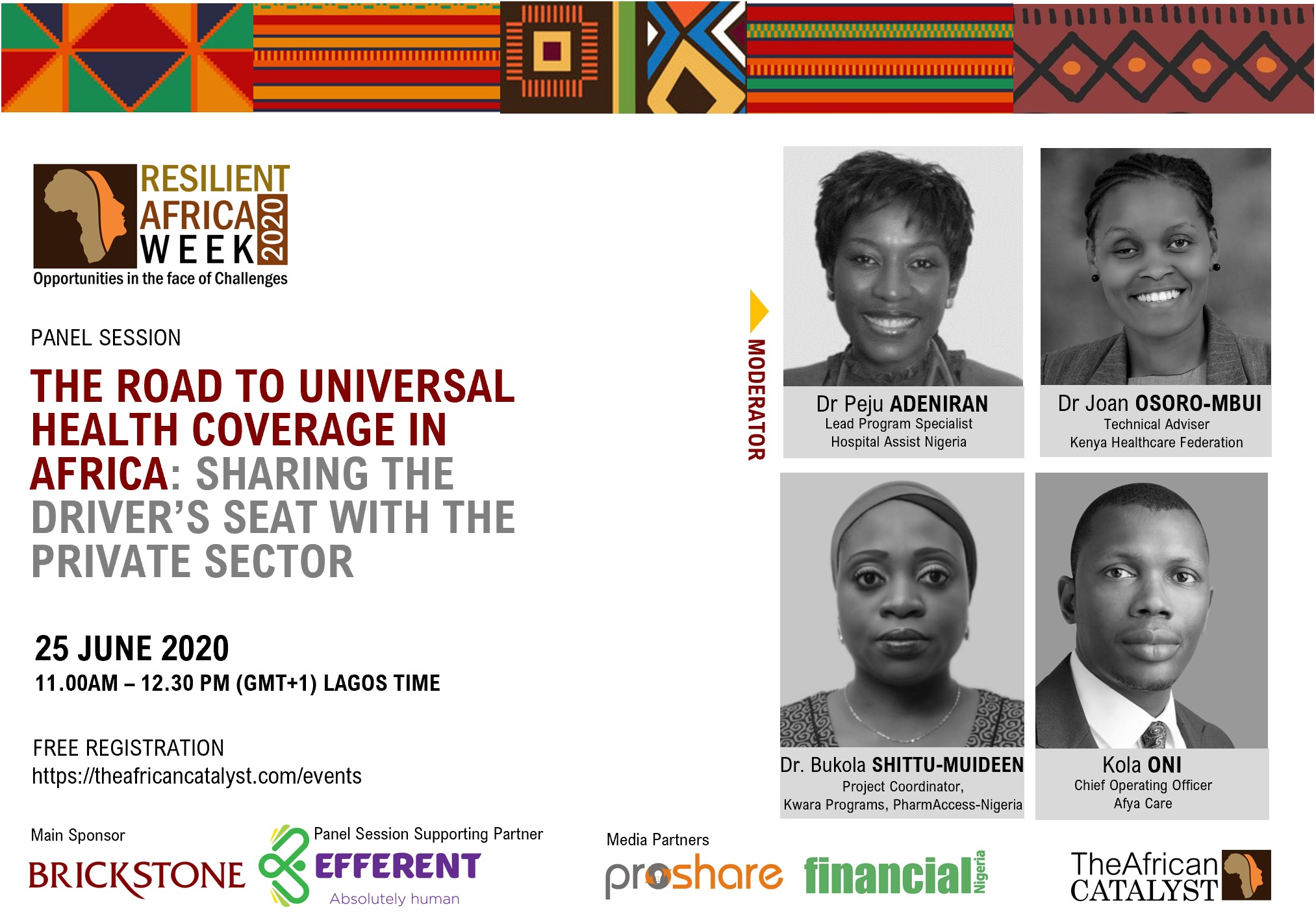 Resilient Africa Week 2020
The Resilient Africa Week is a week-long virtual gathering whereby stakeholders in private and public sector from a variety of industries and disciplines across Africa and Overseas, come together for solution-focused discussion and debate on Africa's resilience in face of Challenges.
RAW 2020 event brings together some of the best African speakers and industry thought leaders who will share their best advice, lessons learned and strategies in spotting African opportunities during a Crisis. The virtual event would be based on "focused panel session implementation-style" where each panel session is a mini-event. Learn more about other panel session CLICK HERE
Background of Panel Session
The current priority for governments given the COVID-19 virus outbreak, requires supportive health financing policies. The impact of both natural and man-made disasters is exacerbated by weak health systems, and covid-19 has overwhelmed the health systems of affected countries, including some of the world's wealthiest nations. It has put the spotlight on inadequate health security and preparedness especially in Primary Healthcare Coverage in Africa
The pandemic is burning out national health systems in many African countries that have strived to provide UHC, hampering their pathways and ambitions to achieve the ethos of universal health coverage which is "to leave no one behind." Most African countries have integrated UHC as a goal in their national health strategies yet progress in translating these commitments into reality has been slow.
It is argued that health systems built on a strong foundation of primary care delivery are more resilient, efficient, and equitable; they can respond to epidemics and pandemics in a more robust way. Primary care and it is critical to delivering the benefits of universal health coverage (UHC). Despite these advantages, PHC is often the weakest link in health systems. Primary care in developing countries in Africa have experienced rapid expansion of private primary health care ownership and for-profit care delivery. Those promoting the trend claim that private providers would bring better and more flexible access, higher quality, and greater responsiveness to patient needs than the public sector. There are new models of technology enabled PHC, new PHC models that integrate health financing and delivery, and innovative approaches for reaching remote populations at an affordable cost.
The panel session is intended to stimulate action by demonstrating that progress toward the use of Private Primary Healthcare Models (to support Governments failing role) and achieving UHC is not only possible, it is also essential.
Introduction and brief overview of the Road to UHC in Africa: Historical view of public financing models
Discuss the challenges and lessons learnt from the demand-pull factors: User access (funding) acceptance (perception) and availability (provision models: number and distribution of facilities, types of healthcare delivery models) within the PHC health care delivery, 
Discuss the challenges of supply-pull factors : Sustainably Improving quality and making attractive  of PHC services, Pricing appropriately, 
Does the Private Sector have a role to play in the PHC system in the road to UHC? Why are we resorting to this source of funding and turning away from the public sector?
Solutions and recommendations
Dr. Adepeju Adeniran | Lead Program Specialist, Hospital Assist Nigeria (Moderator)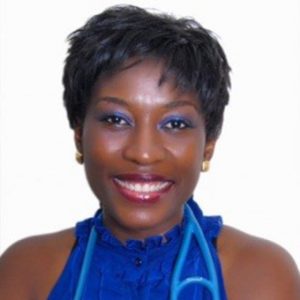 Dr. Adepeju Adeniran is an experienced public health physician with over 15 years of experience in the public health, program design and management. She has worked for several years as a consultant to non-governmental, private and public-sector organisations, in the areas of health system strengthening focussed on local lessons and solutions to Universal Healthcare Coverage.
She is skilled in policy evaluation and analysis, for health systems research and science-to-table knowledge translation for program implementation. Dr. Adeniran has been involved in evaluation projects in LMIC-focussed development, and therefore has the relevant skill set to assist organisations in these sectors to improve their program implementation strategies.
She is currently a lead program specialist an Hospital Assist Nigeria, a public-health consultancy firm that has served many state and national-level clients in health system strengthening and development.
She believes that low to middle income countries in the global south have significant insights to add the conversation on global health, and aligns her career in the direction of making these contributions palpable.
Dr Joan Osoro-Mbui | Technical Adviser, Kenya Healthcare Federation
Education
DBA. Doctorate in Business Administration Jan 2019 – Present (United States International University - Africa Specialization: Leadership and Change Management)
MSc. Master of Science in Health Systems Management,May 2014 Kenya Methodist University
MBChB. Bachelor of Medicine and Bachelor of Surgery,March 2004 University of Nairobi
Experience Summary
Technical Advisor –Kenya Healthcare Federation (April 2020 to Present)
Coordinator – Business Continuity Planning – The Nairobi Hospital - (2019-2020)
Technical Lead – Disaster Preparedness and Management – The Nairobi Hospital (2012-2020)
Medical Intraprenuership – The Nairobi Hospital and Kenya Healthcare Federation - (2012-2020)
Key Strengths
Healthcare Quality Systems
Disaster management and emergency preparedness
Training and Research
Dr. Adebukola, Shittu-Muideen | Project Coordinator, Kwara Programs for PharmAccess Foundation.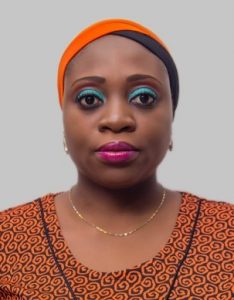 Adebukola, Shittu-Muideen is the Project Coordinator, Kwara Programs for PharmAccess Foundation.
She is leading the execution of health care improvement projects whilst deploying Internationally certified (by ISQua) SafeCare standards as a Quality Improvement Tool, which is already stimulating quality improvement within the health care system in Kwara State.
Her professional background has imbibed her in team management skills, relationship building competency, communications skills and interpersonal skill. She obtained her MB; BS and Master's degree in Public Health from the University of Ilorin, Nigeria. She is also a fellow of International Society for Quality in Health Care (ISQua) and has a certification in marketing from University of Cape Town, South Africa.
Mr. Kola Oni | Chief Operating Officer | Afya Care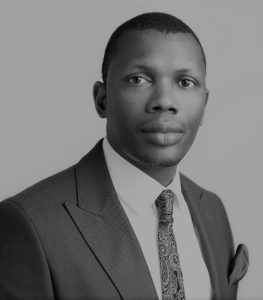 Kola was Chief Strategy & Marketing Officer at AXA Mansard. A former Consultant with experience in two of the 'Big 4' firms – KPMG and PwC, where he advised over 30 different large and mid-sized companies and Private Equity funds on expansion, market entry, audit and growth projects. He has broad general management experience across project finance, business transformation, strategy and brand development.
He had demonstrated experience in bringing parties together to structure solutions in difficult deal situations. Kola has experience in driving corporate growth and strategy, through efficiency in use of capital and in operations, targeted engagement of consumer markets and leveraging sound corporate governance practices. He has a balanced mix of consulting and industry experience which informs his clear hands-on operational approach to issues and the 'can-do' consulting attitude he brings to his roles.
He is a Chartered Accountant and a 2018 alumnus of the Advanced Management Programme (AMP 31) of Lagos Business School & IESE.
Please enter a valid email address.
Something went wrong. Please check your entries and try again.
This is a Pre-Registered Event, please register by filling the form above to get the link to participate.
Details
Date:

June 25

Time:

11:00 am - 12:30 pm

Event Category:

Event Tags:
Venue
Youtube Channel

Website:
Organizer
Resilient Africa Week 2020

Phone:

+234 906 254 7334

Email:

webevents@theafricancatalyst.com

Website: